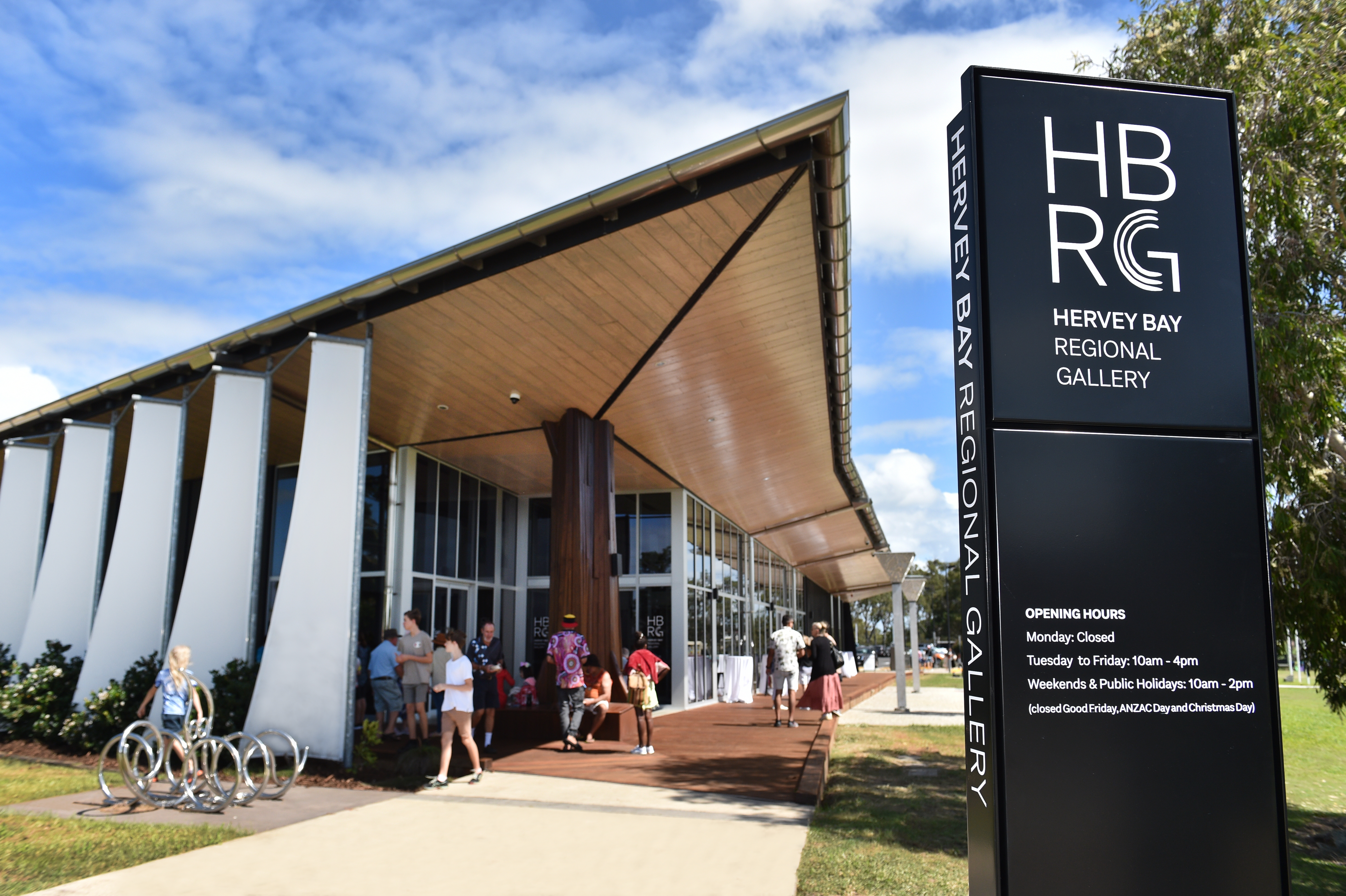 About HBRG
Hervey Bay Regional Gallery (HBRG) is a destination gallery, featuring a curated programme hosting national touring exhibitions alongside our own internally curated shows, focusing on hyper-local themes with a universal meaning for contemporary audiences, local and visiting alike.
The Fraser Coast Regional Council is made up of two major cities, being Hervey Bay and Maryborough with an estimated population of more than 107,000 residents. The geographical area of the region covers 7,125km2 from the Gunalda Range in the south, Biggenden to the west and Burrum Heads in the North on the mainland, extending further to the north and east to include the world renowned K'gari (Fraser Island).

The region is renowned for being the first World Whale Heritage Site, and is host to migratory humpback whales from July to October annually. Located off the coast of Hervey Bay is K'gari (Fraser Island), the world's largest sand island and home to unique sand dune rainforests and ecosystems, as well as being a site of Significance to the Badtjala people.

Hervey Bay Regional Gallery first opened in May 1997 as part of Hervey Bay City Council's new Cultural Services complex located in the Cultural Precinct at Pialba. The purpose built venue included Hervey Bay Library, a shared courtyard with University of Southern Queensland, and Hervey Bay Regional Gallery. This first building was funded by Hervey Bay City Council with assistance from the Queensland State Government and University of Southern Queensland. This partnership between Hervey Bay City Council and the University of Southern Queensland resulted in the first joint use community and university library in Australia.

Hervey Bay Regional Gallery gained an Exhibition Venue Category A rating from the Regional Gallery Association of Queensland, meeting international museum and gallery standards at the time. Operations initially came under the portfolio of the Library and Gallery Services, and in February 1997, two interim advisory panels comprised of representatives from the local arts community and Hervey Bay City Council provided assistance during the first year of operations. In February 1998, Simon Klose was appointed as the first Director of Hervey Bay Regional Gallery.

In 2007 it was recognised that the Cultural Services department of Council, which at that time incorporated the gallery, library, museums, and community and cultural development services, had outgrown its location. Plans were initiated for the construction of a new gallery venue and cultural space, as well as a separate building for a new community centre within the grounds of City Park, falling inside the Civic Precinct. The following year in March 2008, a decision was made to amalgamate the Hervey Bay, Maryborough and Woocoo Councils, alongside two divisions of the Tiaro Shire to form the Fraser Coast Regional Council.

In December 2012, Hervey Bay Regional Gallery was relocated and commenced operations in the newly purpose-built and architecturally designed Fraser Coast Cultural Centre. The facility incorporated two art exhibition spaces, the Main Gallery and Access Galleries, foyer, retail space, children's workshop room, Theatrette multimedia room and the Fraser Coast Discovery Sphere, a static interpretive environmental and cultural display. Fraser Coast Tourism and Events partnered with Council at different stages in the management and delivery of the Fraser Coast Discovery Sphere.

After being closed for two years for extensive refurbishment and strategic planning, Hervey Bay Regional Gallery reopened to the public in April 2022. Through curatorial and engagement programs HBRG platforms hyper-local stories with timely and nationally significant themes. Hervey Bay Regional Gallery aims to become a leader in our commitment to platforming Butchulla perspectives, truth-telling, and the exploration of complex histories and contemporary identities of the Fraser Coast region through art. Girra: Fraser Coast National Art Prize and the Fiona Foley Residency are two new keystone initiatives that focus on these ambitious aims.

HBRG has recently released our 2022-2026 Strategic Plan which details our specific targets to create an inclusive and diverse gallery for all Fraser Coast residents and visitors to enjoy.

HBRG has worked alongside the Butchulla community in developing the strategic plan with a vision of respecting that the gallery's stands on Butchulla country. Our programming aims to connect our audience with Butchulla community and storytelling.

Read More

Fraser Coast Regional Council has an established art collection that focuses on contemporary Australian art including a rich representation from artists of our region. The Collection is managed by the Hervey Bay Regional Gallery.

The Fiona Foley Artist Residency is an invitational biennial artist residency program hosted by Hervey Bay Regional Gallery in conjunction with Dr Fiona Foley.